Customer Self Service Software Empowers Your Customers To Help Themselves Just Like You Would.
Support your customers every step of the way to succeed on their own terms with lower time to resolution and improved customer self service portal experience.
90% customers expect an online customer self-service portal. MS
Product Selection
Increase sales.
Onboarding
Guiding resources.
Troubleshooting
Resolve in seconds.
Feedback
Listen proactively.
74% have already used a customer self service software. MS
Empower your customers in less than 30 seconds with a 'find your own adventure' experience using Interactive Decision trees in your online customer support tool.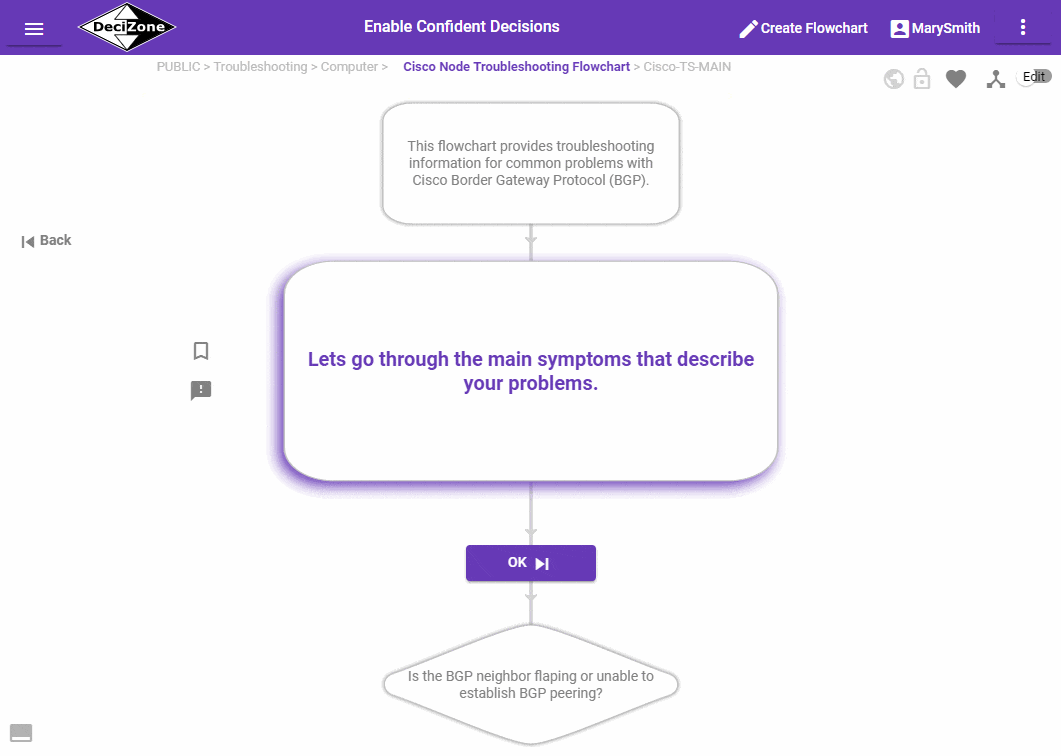 Service your customers anytime any device + Escalate only when appropriate + Reduce your ticket load.
How it works
Build your tree
Business Logic
Self Service
Customers help themselves
Profit
Retain happy customers
DeciZone Helps you Grow Your Bottom Line.
Customer Experience
TTR (Time To Resolution) ≪ 30 sec
Customer Satisfaction
FCR (First Call Resolution) > 90%
Relevant Advanced Features
Knowledge Base
Searchable mobile friendly
Analytics Dashboard
Track customer experience
Custom Look
Your CSS, logo & Branding
Sharing
Publish, Embed, Integrate
Check out how DeciZone customer self service software can integrate & work with other CRM platforms .
Enough Talking, See a Demo!
Here is what a Published DeciZone flowchart might look like when its shared as a clickable button/link on your site:
With DeciZone, your people will always know the next best action. Enable Confident Decisions with No-Code Interactive Decision Trees & Flowcharts.

Testimonials
" Our customers are busy always. We go out of our way to give them the tools to maintain reliable service. These trees have been a great relief for everyone. "
MJ, VP Customer Support
Start Business FREE 30 Day Trial
Schedule a DEMO for your team so we can answer your specific questions!
Frequently Asked Questions
What is self service customer service?
Your customers are busy and they might need your help any time of the day even though your support team works only during office hours. Online customer support self-service portal software empowers the customers to help themselves on their own using your help resources, 24x7. So instead of spending hours or days to get help from your support team, your customers can get meaningful support in a few seconds using your self-service resources.
Why Customer Self Service is important and what are the benefits?
Interactive decision trees, Knowledge Base, How-to Guides as well as automated handling of basic administrative tasks can mean a major improvement in your overall customer experience and help desk self service portal satisfaction ratings. The biggest advantage for your organization is that the case load on your support team (and hence your cost of support) reduces significantly as you improve the quality of self-help resources available to your customers inside your simple customer service software.
What are the types and examples of self service?
Customer Self service traditionally has been offered in the following ways: Online Portals, Mobile Apps, Chatbots/AI, Kiosks, & Phone call based. DeciZone interactive decision tree platform design allows your customers to get faster self service support that most traditional offerings.
How do you select the best self service platform for you?
While selecting the self service platform that work best for your organization, consider the following aspects carefully:
Make sure the platform is easy enough for your team to use and that they will not need help from your IT team or developers to make ongoing improvements. DeciZone is a No-Code solution that makes it easy for anyone to create and share interactive decision trees and Knowledge Base with your people.
The platform must be flexible and scalable enough to enable you to create resources easily, manage versions of each resrouce, allow reuse of your existing resources to avoid repetition and provide many ways to share your resources with your teams and customers. DeciZone's advanced content version management, Role based user access control, modular architecture, mobile first design and universally sharable solution is an ideal fit for most customer self service needs. Build once and let your people access your self service from any device browser, 24x7.
Your per interaction cost of providing support should be as low as possible. Look for platforms that can do the Level 0 and Level 1 support handling with self service and only when appropriate escalate to your support team.
Naturally you will have more questions. Please sign up for your Free Trial and schedule a demo for your team and we will be happy to guide you with some best practices.
Go to top