DeciZone Sales Call Script Software Improves Sales Rep Productivity, Training & Prospect Objection Handling.
Empower Your Sales team to win more deals with consistent messaging for Inbound leads & Outbound Cold calling script.
Only about 25% of salespeople exceed their quotas. SI
Leads & Prospects
Qualify & Engage effectively
Incentives & Discounts
Consistent Messaging
Objection Handling
Response playbook
Training & Coaching
Ramp up new SDRs quickly
Only about 50% of your prospects are a good fit for what you sell - Qualify effectively. SI
Empower your sales people to efficiently focus on the key sales activities like prospecting and engaging instead of wasting time on less valuable operational work.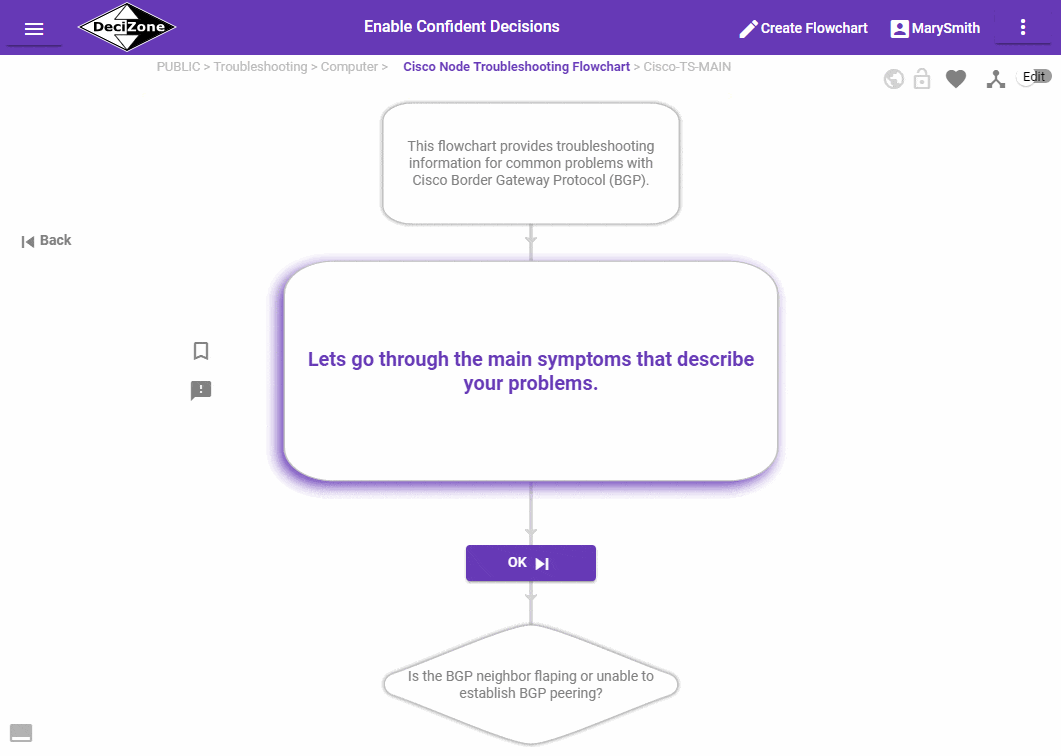 So easy! Lower new SDR onboarding & training times using DeciZone interactive sales script software.
How it works
Create Sales Scripts
Always Improving Sales Playbook
Follow Sales Guidance
Thoughtful answers, always.
Higher Close Rate
SDRs Exceed Revenue Quota
Maximize sales team productivity with interactive decision trees for sales call script software.
Lower Cost
Case Escalation Rate ≪ 4%
Efficiency
After Call Notes ~ 99% Automated
Relevant Advanced Features
Analyse Operations
Improve Sales KPIs
Resume Past Activity
Do Not Repeat
Modular Structure
Effortless Reuse & Linking
Knowledge Base
Searchable Sales Playbook
Check out how DeciZone sales call scripting tools can integrate & work with other CRM platforms .
Enough Talking, See a Demo!
Here is what the DeciZone sales calling script might look like when its shared as a clickable button/link:
With DeciZone, your people will always know the next best action. Enable Confident Decisions with No-Code Interactive Decision Trees & Flowcharts.

Testimonials
" It's very easy to use/ manage and definitely helped us in improving our close rates. "
NF, Senior Account Executive
Start Business FREE 30 Day Trial
Schedule a DEMO of DeciZone interactive sales script tool for your team so we can answer your specific questions!
Frequently Asked Questions
What is sales scripting?
Sales call scripts or cold calling scripts are the readily available prompts & responses you provide for your sales teams to carry out a successful conversation with their prospects. Methodically preparing these scripts using sales script builder software for all the different conversation scenarios for your SDR is usually referred to as sales scripting.
Why are scripts important in sales?
Sales scripts are definitely helpful in improving the close rates for your SDRs but how important depends on what you are selling. Scripts for handling prospect objections effectively using prepared responses, checklists of important bullet points as well as standardized messaging are great ways to boost SDR productivity.
Are sales scripts effective?
Yes, sales scripts can be very effective when designed properly. They help new SDRs ramp up and train much faster. It also depends on what you are selling because different products need different level of sales engagement.
How do I write a telesales script?
Sales scripts or telesales scripts are meant to help your sales team carry out a confident conversation with your prospects. So the best approach is to make a list of all the commonly discussed topics and make a detailed interactive decision tree in DeciZone telesales script writing software for each topic. This way when your sales rep needs help, they can just open one of your interactive decision trees while talking to your prospect and in just a few clicks they will have followed all the best practices on that call.
What is digital sales playbook? What should go in a sales playbook?
The sales playbook is a collection of best practices and scripted responses to help your sales development representatives in confidently talking with your prospects. You can prepare detailed sales script with a sales script generator for each of the stages of a typical sales process: Prospecting, Preparation, Approach, Presentation, Handling objections, Closing & Follow-up. DeciZone Knowledge base feature can organize your interactive sales call scripts for each of these stages as well as per each of your product range so your teams can use it as a digital sales playbook.
Why do you need a sales playbook?
Most sales organizations see a lot of churn because sales can be stressful at times. As a result, any sales team will have members with varying level of sales experience and varying knowledge about your products. Your sales playbook in the form of DeciZone knowledge base will help all your SDRs with standardized talking points as well as objection responses so they can be confident and engage effectively with a human touch with your prospects.
How do you write a sales call Script?
Your sales script should be short clear and consise thought process on a specific topic/objection/product/service. For each of these specific thought processes, create interactive decision trees in DeciZone so that your SDR only has to click a few times and follow the most stretigic approach to address your prospect. Its best to discuss with the team the best approaches in shaping the conversation and then document the thought process in a list or better yet an interactive decision tree.
What makes good sales script?
A good sales scirpt has every piece of information your SDR will need to have a confident conversation with your prospect - nothing more, nothing less. Having said that, the level of sales experience will vary in your team, so its best to prepare sales scripts that are helpful for most of your team.
How do you cold call a script? How do you make a sales cold call pitch?
Sales cold calling can be challenging because often your SDR is calling tens of prospect every day. Its easy to make mistakes, skip steps and loose your train of thoughts. This is where the sales script comes handy. It not only reminds you the correct sequence of talking points but also gives you the prepared responses to common objections. After some practice using the scripts, most SDRs feel very confident in carrying out a successful conversation with your prospects. Good sales scripts remind the SDR to know enough about their prospect before starting the conversation.
Go to top