Interactive product troubleshooting tree software for your own logic of step by step repair guide & troubleshooter
DeciZone Interactive Troubleshooters Software uses Flowcharts & Decision Trees For Quick Technical Support Help Desk Troubleshooting & Repair Service Guides.
Decision tree Troubleshooter tools can eliminate upto 96% of irrelevant information with 'Half-Splitting'.
Quick Repair Guide
Resolve issues independently
Root Cause Analysis
Minimum steps to a fix
Training Knowledge Base
Streamlined & Single Source
Interactive troubleshooting flowchart software can reliably isolate and resolve reproducible product problems in as little as 4 responses.
Delight your people by quickly troubleshooting known issues with DeciZone technical support decision trees. Create interactive troubleshooting guide aligned with your business rules and your own troubleshooting logic.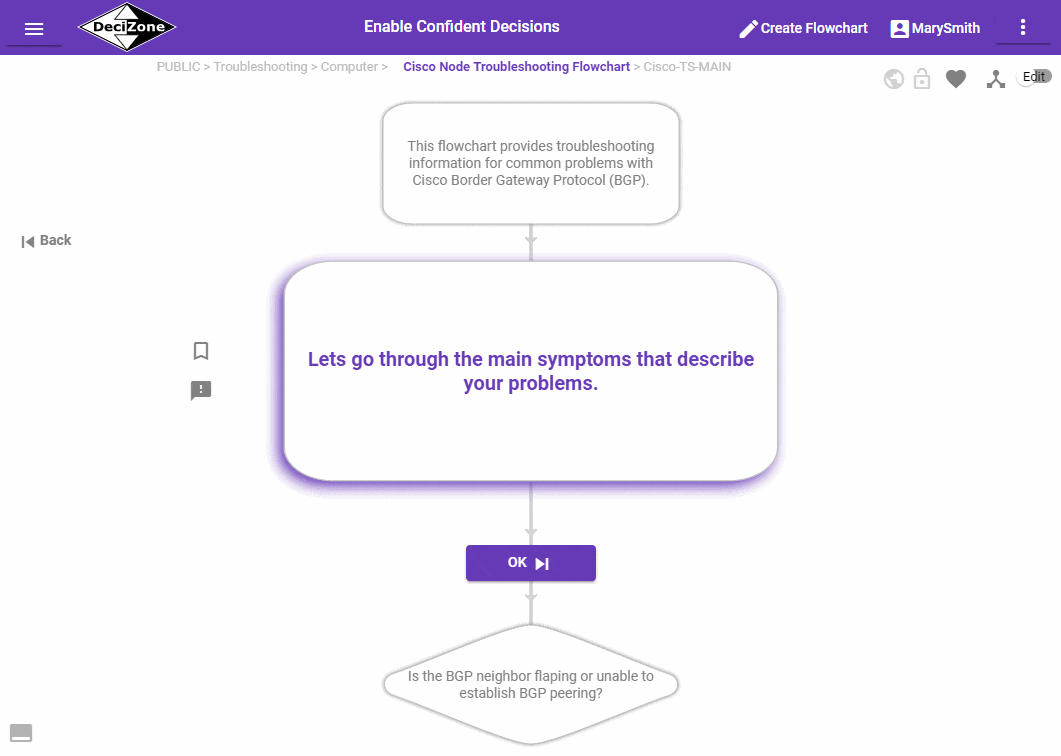 Enable everyone to troubleshoot the most complicated problems as easily as your best subject matter experts.
How it works
Create Troubleshooter Tree
Using your own logic
Problems Resolved
In minimum steps
Lower Support Costs
Improved CSAT
Lower operations cost by using the same troubleshooter flowchart inside your CRM software for your help desk support teams as well as on your website as customer self service troubleshooting resources.
Customer Experience
TTR (Time To Resolution) ≪ 30 seconds
Customer Satisfaction
FCR (First Call Resolution) Rate ~ 98%
Lower Cost
Case Escalation Rate ≪ 4%
Efficiency
After Call Notes ~ 99% Automated
Relevant Advanced Features
Knowledge Base
Searchable Troubleshooters
Analytics Dashboard
Continuousy improve CX
Modular Structure
Effortless Reuse & Linking
Support Older Products
Tree per Product version
Check out how DeciZone interactive product troubleshooting tree software can integrate & work with other CRM platforms .
Enough Talking, See a Demo!
Here is what the DeciZone troubleshooting flowchart software might look like when its shared as a clickable button/link:
With DeciZone, your people will always know the next best action. Enable Confident Decisions with No-Code Interactive Decision Trees & Flowcharts.

Testimonials
" Right after we shared our troubleshooter trees, we saw a significant decrease in number of calls to our help desk team. Good feedback from our customers as well. We would recommend them to anyone 5 stars. "
BM, Director Technical Help Desk
Start Business FREE 30 Day Trial
Schedule a DEMO of DeciZone Interactive product troubleshooting tree software for your team so we can answer your specific questions!
Frequently Asked Questions
Troubleshooting 101 : What is troubleshooting? What is the purpose of troubleshooting? What is the process of troubleshooting?
Troubleshooting is a logical and systematic search for the source of a repeatable problem in order to resolve it, and make the product or process operational again.
Troubleshooting vs problem solving : How is troubleshooting different from problem solving?
Problem solving is the process of finding solutions to difficult or complex issues. Troubleshooting is a form of problem solving, mostly applied to repair failed products or processes on a machine or a system. Troubleshooting consists of a) Identifying the problem correctly b) Diagnosing the problem c) Fixing the problem.
Troubleshooting vs Diagnosis : What is the difference between diagnosing and troubleshooting? Does troubleshooting come before diagnosing? What is diagnostic troubleshooting wizard?
Diagnosis is the identification of the nature and cause of a certain phenomenon. Troubleshooting consists of:
Identifying the problem correctly
Diagnosing the problem
Fixing the problem
Diagnosing in the context of troubleshooting refers to finding out the root problem through a process of elimination whereas troubleshooting refers to the fixing of that problem after diagnosis has been made. Any tool that makes it easy to diagnose and troubleshoot problems can be referred to as a diagnostic troubleshooting wizard. Decision tree based troubleshooting software like DeciZone makes it easy for you to effectively manage and efficiently deliver troubleshooting support to your people.
General troubleshooting techniques: How do you troubleshoot problems with symptoms? What is top down troubleshooting? What is Bottom up troubleshooting? What is divide and conquer troubleshooting?
Any unexpected or undesirable behavior in a product is a symptom. Troubleshooting is the process of isolating the specific causes of the symptoms and fixing it to address those symptoms. Generally speaking, technical support decision tree troubleshooting techniques and approach depends on the nature of the problem you are trying to solve. Eliminating probable causes of the problem by systematically analysing the symptoms is an important part of the troubleshooting process steps and can take the following popular forms:
Top Down Troubleshooting: In this approach, you start with the symptom and go progressively step backwards to find the element that is faulty. This might often be unnecessarily longer process to eventually discover that the root problem was something simple like the power switch was not turned on.
Bottom Up Troubleshooting: Here the approach is to start from the first principles and the basic conditions and eliminate causes by progessively stepping forward till you find the faulty element. So if a device is not turning on, you might first check if the power switch is turned on and then if the device is receiving power and nowards.
Divide and conquer: Divide the original problem scope into two or more problems with smaller scopes. Then solve the smaller scope problems recursively to identify and corner the root problem to eventually fix the root problem.
What is the significance of a flowchart in problem solving? What is a troubleshooting flowchart? What are problem solving flowchart examples?
A flowchart is a diagrammatic representation of the solution to a given problem but, more importantly, it provides a breakdown of the essential sequence of steps to solving the problem. Flowcharts are very efficient to use because they give visual clarity, they communicate instantly, they are ideal for properly documenting problem solving troubleshooters using the self help troubleshoot creator like DeciZone. When designing and planning your troubleshooting process, flowcharts can help you identify its essential steps and simultaneously offer the bigger picture of the process. Troubleshooting flowcharts typically go through a sequence of basic fault finding probing questions to suggest a solution for most repeatable problems. Troubleshooting flowcharts are commonly used for equipment repair documentation, troubleshooting of computer hardware as well as technical help desk IT troubleshooting.
Troubleshooting best practices: What is the standard troubleshooting model? What is the universal basic troubleshooting process? How do you generally resolve troubleshooting technical issues? What principles, rules & methodologies are there for troubleshooting? What are some common basic troubleshooting steps? What are the six steps in the troubleshooting process?
Always make sure the power is turned on - the most basic first step commonly advised before starting troubleshooting. After all, you don't want to spend hours on troubleshooting something to finally realize that the root problem was that the power was not turned on. While that is too obvious for most people, at a high level the troubleshooting process can be generalized and broken down into the following six steps. In fact, CompTIA publishes a six-step process related to the troubleshooting process that might be used by tech troubleshooters.
Problem Identification: Make sure you know exactly what the problem is, what the symptoms are and get a good understanding of the scope of the problem.
Find Probable Causes: Here you are just making educated guesses to figure out what could be the likely causes for your problem.
Test & Determine Root Cause: Go through systematic testing to determine what the root cause for the original problem is. This step is the heart of troubleshooting process, so select the most appropriate troubleshooting approaches discussed above and find the root cause of the original problem.
Implement the fix: Once the root cause is identified, you need to actually fix the problem by taking the appropriate action. This might call for restarting a device, replacing a component or in some cases servicing or cleaning a comopnent.
Verify Outcome: Before you start celebrating, make sure the fix you implemented did actually solve your original problem. Try to reproduce the original problem as best as you can using different combination of steps. If the problem re-appears, the root cause you determined was wrong or atleast not enough. Start the process again from the first step.
Document the process: Make sure the experience gained during this troubleshooting exercise is well documented by improving your troubleshooting flowcharts. This way, the next time the same problem happens, your interactive troubleshooter will address it automatically.
DeciZone interactive product troubleshooting decision tree software and repair guide troubleshooters can make it easy for your people to follow the troubleshooting best practices.
IT Help desk troubleshooting questions & common problems: What are the most common help desk problems and solutions? What are the basic helpdesk troubleshooting questions callers ask?
Here are the most common problems that help desk support agents resolve several times a day on a regular basis:
Printer issues
Computer problems
Internet connection problems
External drives & devices problems
Restoring lost files
Password reset & logging In
Software updates & licenses
Voicemail issues
Phone issues
Third-party software issues
No Disk Space
Viruses & Malware related
Uninstalling Progarms
Corrupt Hard disks
Backup & Recovery
Addressing most of these common customer support help desk problems can be conveniently addressed using DeciZone product troubleshooting tree software. You can give your customers as well as your support agents a great experience along with improved productivity using DeciZone IT troubleshooting decision tree software.
Technical troubleshooting training guides: How to create interactive help desk troubleshooting guide? How to make a step by step repair guide? How to share troubleshooting resources in a online knowledge base?
Most products today are designed to make the eventual troubleshooting of any problems much easier - easy enough for the user to fix most low hanging known issues using self solve troubleshooters. The real challenge for help desk support team emerges when you consider the following common support requirements:
Need to support versions of the same product
Number of product lines being supported
Need to use ongoing feedback to improve troubleshooting resources
Skills for troubleshooting vary from person to person in the support team
Troubleshooting experience might get siloed with a few senior technical experts creating bottle necks
Analyze team activity to identify leaders
Monitor and identify when your troubleshooting resources need to be improved
Optimize your support hours to serve your people during the time window they want
DeciZone interactive software tools for troubleshooting make it extremely easy for your customers to effortlessly walk through the decision tree troubleshooting software steps and get your product repaired in the shortest amount of time and at a time convenient to them. Your DeciZone account comes with a built-in knowledge base which can be published for your customers to search through all your troubleshooting trees to resolve issues in seconds. The built-in Dashboard makes it easy for you to identify opportunities for improvement so that your help desk interactive troubleshooting software guide can address even more problems completely automatically for your people. DeciZone addresses the above chalenges in a user friendly way so that your help desk team can use the interactive guide and focus on delighting your customer.
Go to top