Field Service Management Decision Tree Software Empowers Service Technicians & Field Engineers
Interactive decision trees for repair & maintenance procedures boost productivity & compliance for your field service techs.
48% - 52% Field Technicians face challenges in accessing knowledge base and service manuals. FO
Confident Technicians
Resolve issues independently.
Consistent Performance
Minimum steps to a fix.
Field Knowledge Base
Streamlined & Single Source.
Real-Time Feedback
Continuous improvement.
47% of field service companies are still having trouble getting enough quality technicians. FO
Empower Field Service technicians to quickly solve complex problems correctly the first time and improve onboarding training.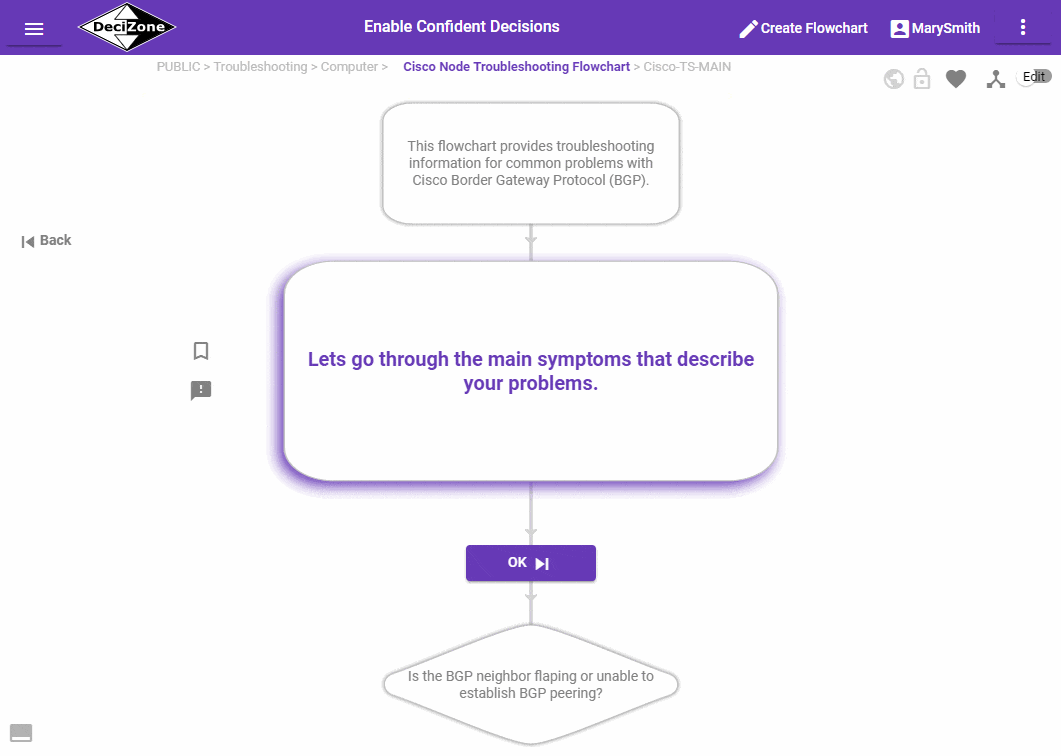 So simple! Get more done & lower field technician onboarding & training times with DeciZone field service business software.
How it works
Create Decision Tree
Using your process
Problems Resolved
Techs service consistently
Improve bottom line
Lower costs, efficiently.
Enable your technicians to be as good as your subject matter experts.
Technician Experience
TTR (Time To Resolution) ≪ 30 sec
Technician Satisfaction
FCR (First Call Resolution) > 90%
Lower Cost
Case Escalation Rate ≪ 4%
Efficiency
After Job Notes ~ 99% Automated
Relevant Advanced Features
Knowledge Base
Searchable Troubleshooters
Analytics Dashboard
Monitor Performance
Custom Look
Your CSS, logo & Branding
Modular Structure
Effortless Reuse & Linking
Create decision tree driven interactive guides for service technicians that integrate with your FSM / CRM system and help improve consistency & quality of service. Check out how DeciZone Field Service Management Interactive Decision Tree Software can integrate & work with other platforms .
Enough Talking, See a Demo!
Here is what a Published DeciZone interactive flowchart might look like when its shared as a clickable button/link inside your field workforce management software:
With DeciZone Repair Management Software for maintenance and field Service, your people will always know the next best action. Enable Confident Decisions with No-Code Interactive Decision Trees & Flowcharts.

Testimonials
" It is easy to build our process. Their support is top notch. Very easy for our field teams to follow the process on their phones."
FS, Supervisor, General Contractors
Start Business FREE 30 Day Trial
Schedule a DEMO for your field tech team so we can answer your specific questions!
Frequently Asked Questions
What is the meaning of field service?
Any activity or effort made towards proper operation of your products & services outside your business premises, and often at customer premises can be referred to as field services. Field services generally involves activities like installation, maintenance, or repair of hardware or equipment installed in the field.
Why is field service management important?
Field services operations combines many challenging responsibilities - logistics, parts inventory, standard operating procedures, human resources and job scheduling to name a few. If these activities are not closely coordinated by the service business software in a efficient and cost effective manner, it could put you out of business. A field service management system is designed to keep track of the various critical components of field operations. This is why streamlined field service operations management is critical to organizations where field services are a significnat part of the operations.
What is cloud based Field Service Management software system?
Cloud-based system (SaaS) allows users to access software applications that run on shared computing resources through the Internet. A cloud based Field Services Management software (aka, web based service management software OR contractor service management software OR Mobile field service management software) enables field operations personel and service delivery teams to operate with very high efficiency by automating many tedious and time consuming activities. Such home and commercial service software & mobile app for home service companies significantly lower the operating cost of business.
Who uses field service management software?
Field service software is used by most organizations that have technicians working out in the field. Mobile field service solutions helps the supervisors monitor the performance and run the operations most efficiently. Service technician support softwares like DeciZone empowers the workers in the field by delivering critical information they need to complete their work. An example would be a field techician using an interactive decision tree for troubleshooting some equipment in the most efficient manner at the customer premices.
How can DeciZone interactive decision trees complement your Field Service Management FSM software?
Most field service organizations have dedicated service industry software solutions for intentory, scheduling, fleet management, logistics, etc. Their goal is to make sure the techincians deliver the services successfully and in the most efficient manner. DeciZone interactive decision trees make it easy for the field technicians to comply with the standard operating procedutes, best practices and other guidelines. The technician can initiate any decision tree right from their mobile browser, make a few quick choices and get a solution in just a few seconds. All the steps taken by the technician inside the decision tree can be saved in the job records. Technicians and contractors have varying levels of experience and skill sets. DeciZone interactive decision trees allow all of your team members to perform as well as your subject matter experts who designed your decision trees. To understand how interactive decision trees can be leveraged by your organization, please schedule a meeting with the DeciZone Support team so we can answer any specific questions you may have.
Go to top