Insurance Decision Tree Software Empowers Insurance Agents to Improve Customer Satisfaction (CSAT)
Insurance decision tree with built-in forms help streamline benefits, approvals, prior authorizations & verifications for insurance payers & broker organizations.
24% to 15% productivity improvement in insurance policy servicing and claims was driven by improvements in processes and automation. MK
Third Party Admin (TPA)
Policy Servicing
Benefits Eligibility
Answer complex questions
Independent Practice Assoc.(IPA)
Consistent Guidelines
Life, Property & Casualty
Built for Payers & Brokers
Cost Mitigation
Enforce Standards At Scale
Digital Transformation
Process Optimization
95% of surveyed insurers are already accelerating digital transformation to maintain resilience. DE
Empower Insurance professionals to quickly answer complex questions correctly the first time and improve team productivity.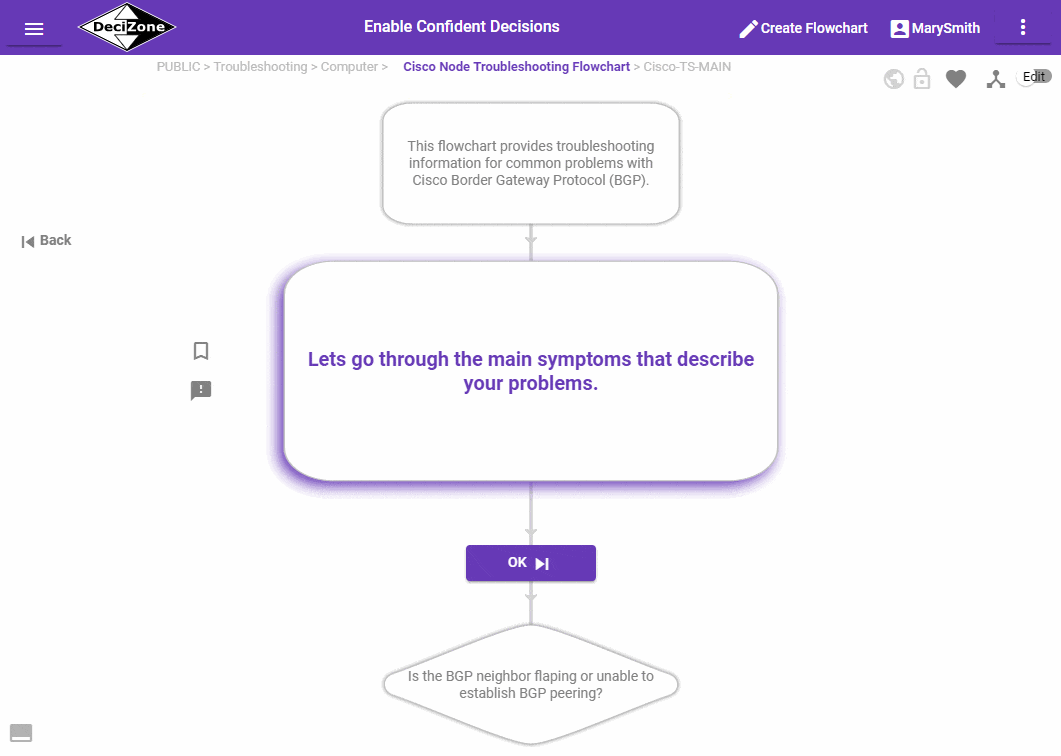 So simple! Get more done & lower team onboarding & training times with DeciZone Insurance decision tree software.
How it works
Create Answer Trees
For Complex Questions / Topics
Guide Agents in Real-Time
Next best action always clear
Improve bottom line
Lower costs, efficiently.
DeciZone no-code interactive insurance decision tree maker enhances Customer Satisfaction (CSAT) with interactive customer guides, Agent script flowcharts with built-in form fields.
Agent Productivity
TTR (Time To Resolution) ≪ 30 sec
Customer Satisfaction
FCR (First Call Resolution) > 90%
Lower Cost
Case Escalation Rate ≪ 4%
Efficiency
After Job Notes ~ 99% Automated
Relevant Advanced Features
Analytics Dashboard
Monitor Performance
Simplify Onboarding Training
Effortless Interactive Experience
Knowledge Base
Searchable Trees
Transcripts
Analyze & Coach.
Integrations
Save to popular CRMs & ERPs
Modular Structure
Effortless Reuse & Linking
Create decision tree driven interactive guides for insurance support agents & brokers that integrate with your CRM system and help improve consistency & quality of service. Check out how DeciZone insurance interactive decision tree software can integrate & work with other platforms .
Enough Talking, See a Demo!
Here is what a Published DeciZone interactive insurance decision tree example might look like when its shared as a clickable button/link with your insurance support teams:
With DeciZone, your people will always know the next best action. Enable Confident Decisions with No-Code Interactive Decision Trees & Flowcharts.

Testimonials
" Very easy to use and create trees, easy for the team to adopt but still very powerful under the hood."
RL, Agent Supervisor
Start Business FREE 30 Day Trial
Schedule a DEMO for your insurance team so we can answer your specific questions!
Frequently Asked Questions
How to insurance companies use decision trees and flowcharts?
Decision trees are knowledge tools that use a flowchart or tree like model to visualize insurance service and support contact center processes. Flowcharts and decision trees guide agents actively step by step through service inquiries. This ensures consistent performance in insurance contact centers, eliminates skipped or forgotten questions, increased FCR & fewer call transfers as well as higher customer satisfaction. DeciZone interactive decision trees and flowcharts make it effortless for your agents to engage with your customer while revealing the next best action automatically.
How can insurance agents and teams leverage decision trees on all support channels?
Insurance support teams carefully design the decision trees for most frequently inquired topics or popular complex topics. These decision trees can be presented in a interactive experience using DeciZone.com platform. You can choolse to limit access to these trees only to the internal teams or in some cases even allow customers to use these trees for self-service. Any one with access to a tree can get the most appropriate recommendation in just a few seconds of making choices. As a result, most low hanging issues can be automatically handled by the interactive self service decision trees. For the agents this is even more beneficial because it reduces the time to resolution TTR as well as first call resolution FCR metrics resulting in a better agent productivity as well as a improved customer satisfaction CSAT ratings.
Go to top