Healthcare Decision Tree Software Empowers Non-Clinical Teams & Improves Patient Satisfaction
Medical flowchart streamlines non-clinical pre-diagnosis triage, patient scheduling, onboarding training & telephone screening for all types of organizations.
82 percent nurses said they have a positive view of how technology is affecting patient care. LI
Telehealth
Remote guidance
Patient Satisfaction
Improve with feedback
GPO
Streamlined Single Source
Inpatient
Hospitals & Nursing Homes
Outpatient
Urgent Care Clinics
Medical Vendors
Staffing Agencies
36% of the tasks performed by registered nurses (RNs) in the inpatient units at many hospitals could safely be performed by NON-RN team members. M
Empower your health care teams to quickly answer complex questions correctly the first time and improve onboarding training using healthcare decision tree flowchart software .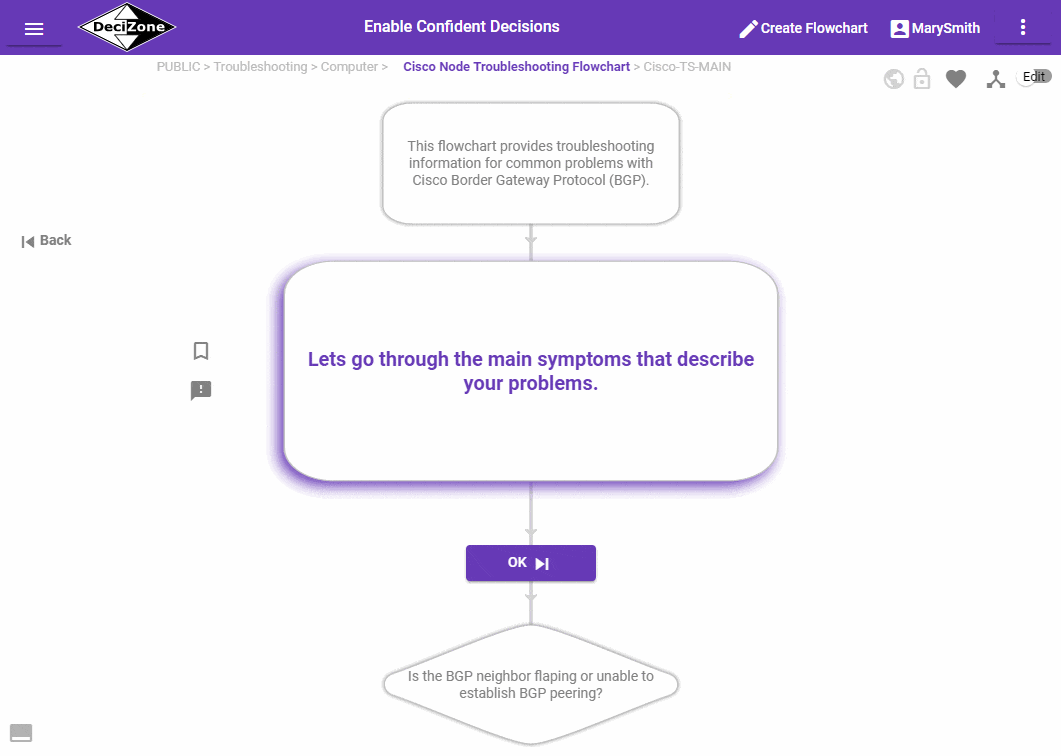 So simple! Get more done with higher team productivity & improve patient experience with DeciZone health care decision tree software.
How it works
Create Answer Trees
Answer Complex Questions
Guide Teams in Real-Time
Next best action always clear
Boost Team Productivity
Improve bottom line
Enable your non-clinical administrative staff to be as good as your clinical care teams.
Team Experience
TTR (Time To Resolution) ≪ 30 sec
Patient Satisfaction
FCR (First Call Resolution) > 90%
Lower Cost
Case Escalation Rate ≪ 4%
Efficiency
After Job Notes ~ 99% Automated
Relevant Advanced Features
Knowledge Base
Searchable Trees
Analytics Dashboard
Monitor Performance
Modular Structure
Effortless Reuse & Linking
Simplify Onboarding Training
Effortless Interactive Experience
Transcripts
Analyze & Coach
Custom Look
Your CSS, logo & Branding
Check out how DeciZone healthcare decision tree app can integrate & work with other platforms .
Enough Talking, See a Demo!
Here is what a Published DeciZone interactive treatment decision tree example might look like when its shared as a clickable button/link with your healthcare teams:
With DeciZone healthcare process flow chart Software, your medical and nursing non-clinical staff will always know the next best action. Enable Confident Decisions with No-Code Interactive Decision Trees & Flowcharts.

Testimonials
"DeciZone flowcharts have helped us a lot in training new members as well as getting everyone to follow the guidelines."
SR, Outpatient Operations
Start Business FREE 30 Day Trial
Schedule a DEMO for your health care team so we can answer your specific questions!
Frequently Asked Questions
What is a medical flowchart?
Flowcharts can be used to clearly guide the flow of people, services and information in a medical context. Typically flowcharts can start with a simple high level step and then by asking successive questions, guides the reader towards the most appropriate recommendation. Interactive flowcharts from DeciZone deliver an effortless experience for the whole team, making sure everyone is following the standard guidelines.
What are flow charts in healthcare? What is a decision tree in healthcare?
Flowcharts and decision trees are increasingly common in healthcare setting. They are both a simple representation of the sequence of steps or questions to follow in order to reach a conclusion or get a recommendation. It is critical for most healthcare professionals to not only follow the standard guidelines, but to also not forget an important step. DeciZone interactive healthcare decision tree software enables non-clinical teams to answer the most complicated questions effortlessly in less than 30 seconds. Interactive medical flowcharts are an important aspect for any healthcare patient support agent decision tree flowchart software.
What is a decision tree in nursing? What is a flowchart in nursing?
Interactive decision trees and flowcharts from DeciZone make it easy to organize information regarding a care process into a healthcare flowchart software. This can include diagnostic decision-making trees in nursing or even for non-clinical triage use cases. These medical diagnosis decision trees can be a great healthcare decision tree tool to identify opportunities for high leverage improvements. Hospitals and nursing schools often use nursing decision tree software to effecively train nurses.
What is a clinical decision tree?
Clinical decision trees are usually the decision trees used in the clinical decision analysis (CDA). CDA use decision trees to overcome complexity and uncertainty in medical processes. DeciZone allows you to present these decision trees in a interactive experience where the viewer has to just make a few choices and can reach a recommendation in just a few seconds.
Go to top